This is absolutely one of the finest Honda S2000's around and it packs a punch at 500hp at the rear wheels.
Went from a stock 11:1 CR motor with the Novi 1500 blower to a built 9:1 CR motor. With the built motor now installed and running, the boost can be cranked up from 13psi to about 25psi, the maximum efficiency range of the Novi 1500's RPM, any further will be overclocking the blower. To go from 13 to 25psi requires a custom crank pulley and smaller super charger pulley.
As its centrifugally blown, it has a fully built head which allows it to extend the redline from 9,000rpm to an absolutely screaming 10,000rpm.
The modifications list is massive: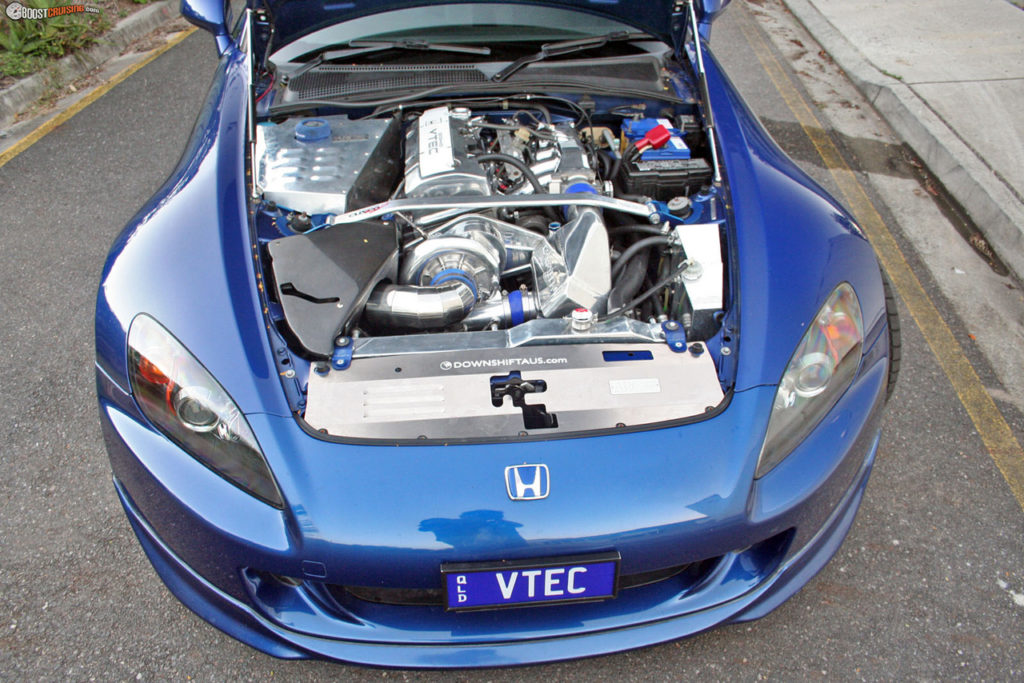 Engine:
Block:
Laskey Racing Block
CP Pistons
Carrillo Rods
Darton Sleeves
ARP Headstuds
Brand New OEM Bearings
Micropolished crank
Head:
Ferrea Valves
Ferrea Dual Valve Springs
Ferrea Keepers
Ferrea Titanium Retainers
Port & Polished Head
Cometic Steel Head Gasket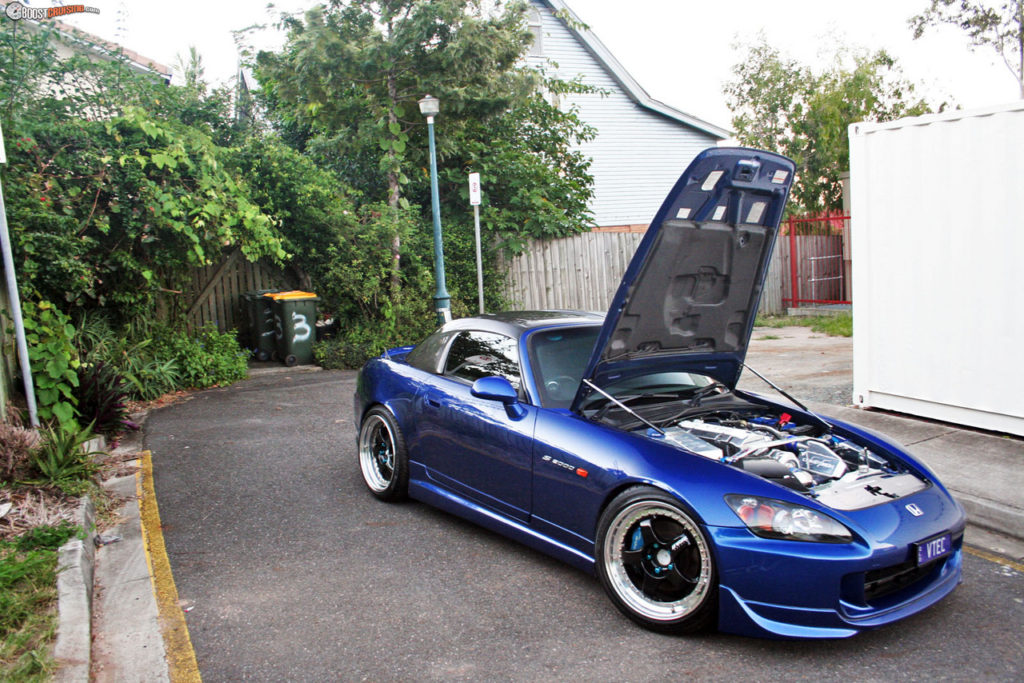 Fuel:
ID1000cc Injectors
Walbro 255lph Fuel Pump
BDL Fuel Rail
BDL Fuel Filter
BDL 72mm Throttle Body
AEM Fuel Pressure Regulator
Supercharger:
Comptech Supercharger Kit with Aftercooler
Custom Paxton Novi 1500 (Mustang V6 / V8 / Camaro, Corvette etc blower)
Custom Tensioner
Custom Comptech Backing Plate
Custom Crank Pulley
3.2″ Science of Speed Pulley
Spearco Front Mount Radiator
Bosch By-pass Valve.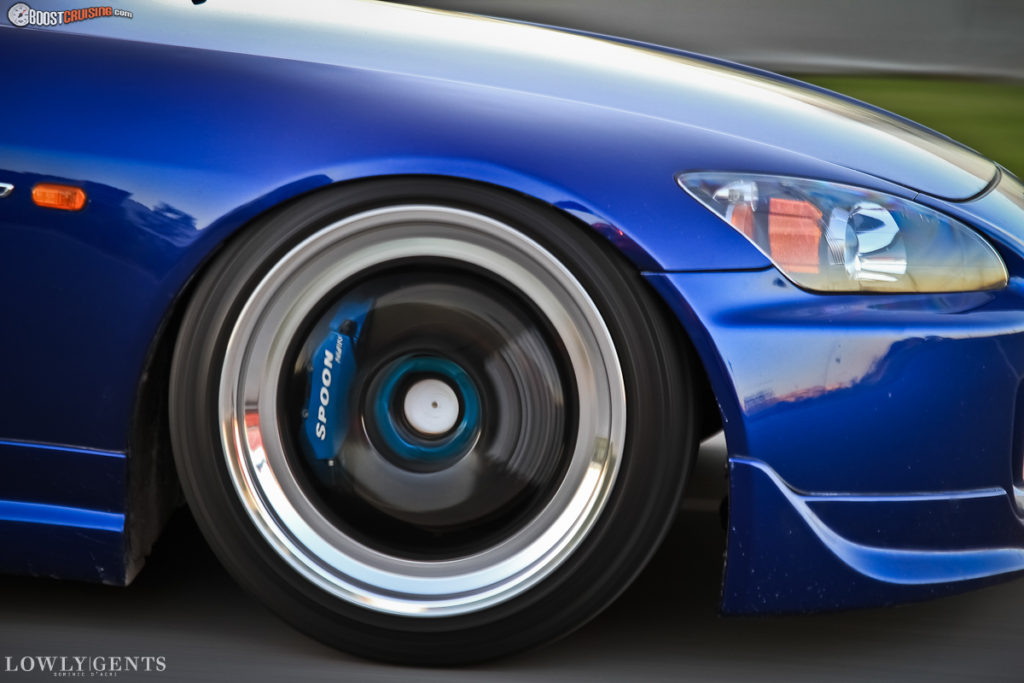 Accessories:
K&N Filter
Toda Racing Exhaust Header
Bored Out Port & Polished Intake Manifold
Science Of Speed 3 Bar Map Sensor
Spoon Engine Oil Cap
Spoon Radiator Cap
ARC Titanium Radiator Cooling Plate
Spoon Reservoir Socks
Custom Powdercoated Spark Plug Cover
Cusco Brake Stopper
Polished Aluminum 52mm Radiator
Polished Valve Cover
Polished Intake Manifold
Polished Paxton Novi 1500 Supercharger
Polished ARC Heatshield
Polished J's Racing 2-in-1 Catch Can & Radiator Overflow Tank
Polished Custom Intake Elbow
PWJDM Battery Tie Down
PWJDM Radiator Stays
PWJDM VTEC Solenoid Cover
Spoon Engine Torque Damper
Drivetrain & Transmission:
Stage 4 Competition Clutch
Fidanza Flywheel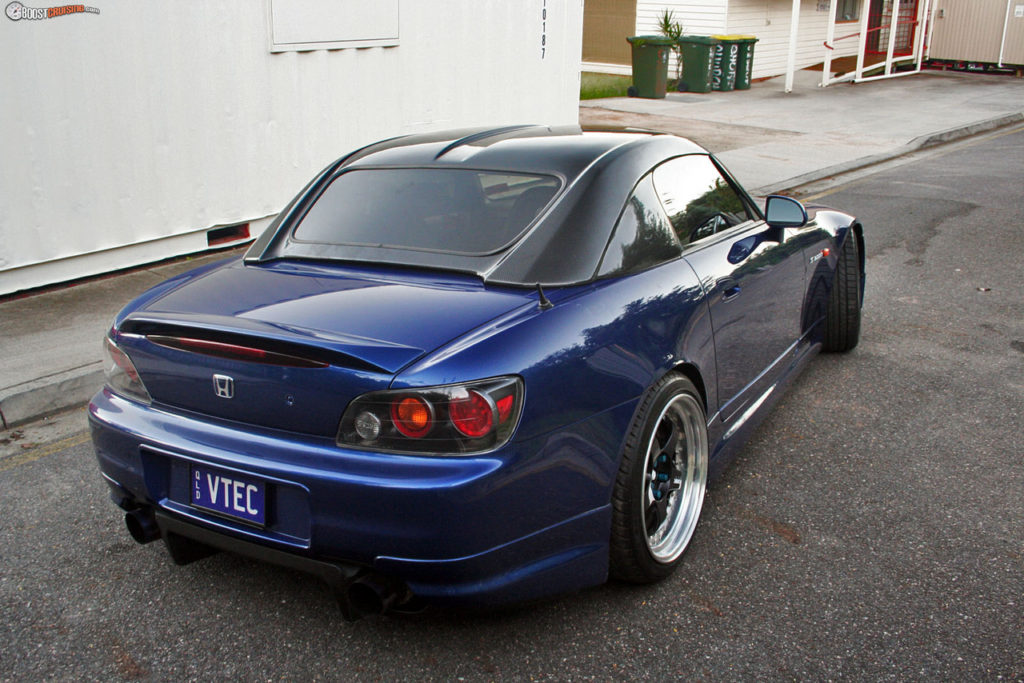 Exhaust:
Invidia V3 Dual 70mm Titanium Exhaust
Invidia test pipe
Invidia silencers (not currently installed…)
Suspension, Wheels & Brakes:
18″ Black 3PC Work Meister S1 9″ Front 10″ Rear
17″ Gold Advan RG's
KW V3 coilovers
Spoon Monobloc Calipers
Whiteline F&R Sway Bars
Cusco Front Strut Bar
Work Blue Lug Nuts
DBA Slotted Rotors Front & Rear
Whiteline X Brace
Exterior:
AP2 Front Bumper
AP2 "Modulo" Front Lip
Downforce Carbon Fibre Front Splitter
AP2 Tail Light Conversion
AP2 Head Light Conversion
GP Sport Side Skirts & Door Caps
GP Sport Rear Skirts
J's Racing Carbon Fibre Rear Diffuser
J's Racing Style Carbon Fibre Bonnet
AP1 OEM Rear Spoiler
Mugen carbon fibre hardtop (replica – Seibon)
OEM Hardtop Kit
APR Carbon Fibre GT3 Mirrors (removed)
Mini Aerial
Prestige Plates
Interior:
Bride Seat Rails
Mugen S1 Seats
AP2 Radio Door
AP2 Shift Knob
AP2 Leather Console
Ap2 Centre Console
Seat Windscreen diffuser
Muz Floor Mats
Glove Box Organizer
Carbon Fibre Gear Boot (not pictured)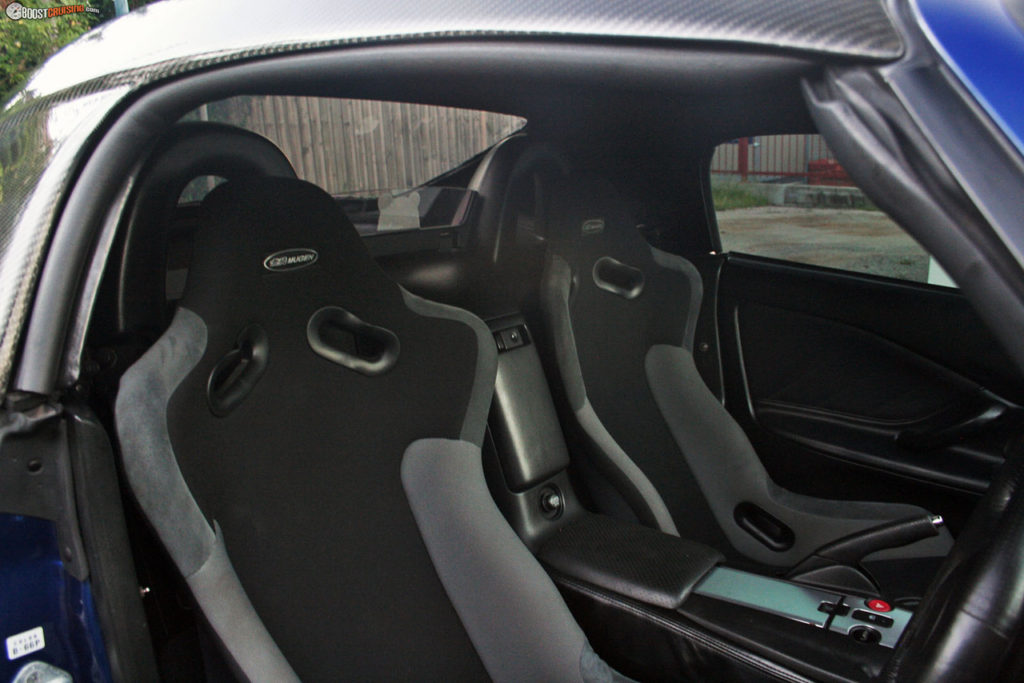 Stereo Audio / Visual / Electrical:
Alpine 9851 Headunit
Alpine T420 amplifier
Alpine SPX 177R X Type Tweeters
Option Audio Splits
Alpine 6 disc MP3/CD Stacker
Modifry Dash Control Interface
Modifry Stereo Adapter
Modifry ECT (Engine Coolant Temperature Gauge Fix)
AEM ECU
Defi Link Controller
Defi Boost Gauge
Immobiliser (Brand withheld)
Alarm (Brand withheld)
Estimated Power:
Stock Motor
A consistent 420rwhp @ 13.5psi after numerous (100+) pulls on a dyno… Stock internals, stock CR, factory headgasket. With the boost cranked up to 25psi it throws out 550hp at the rear wheels.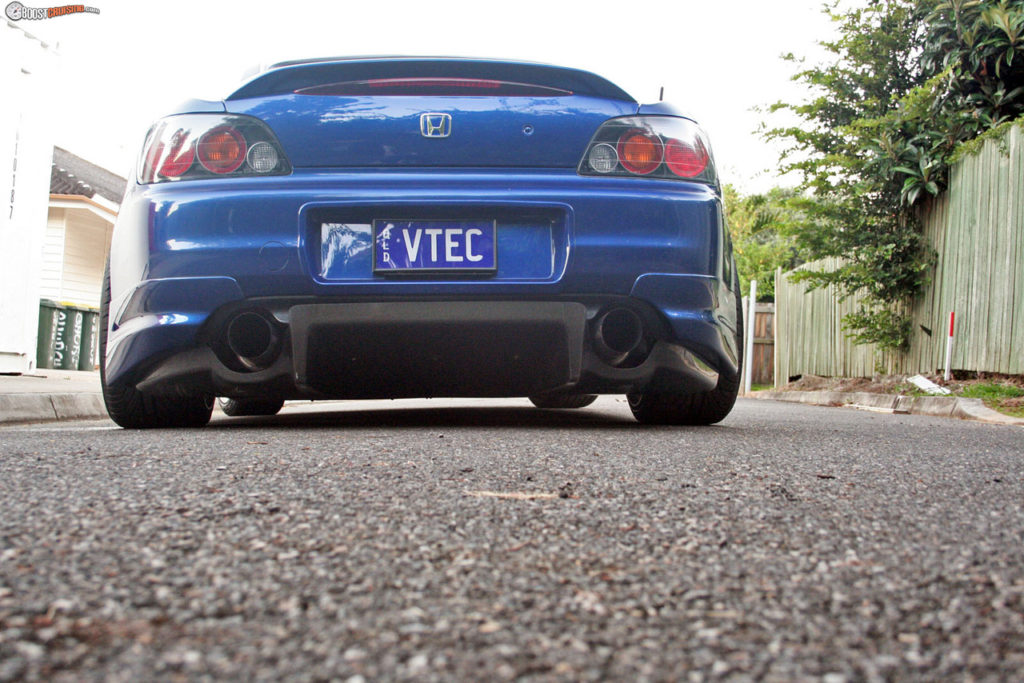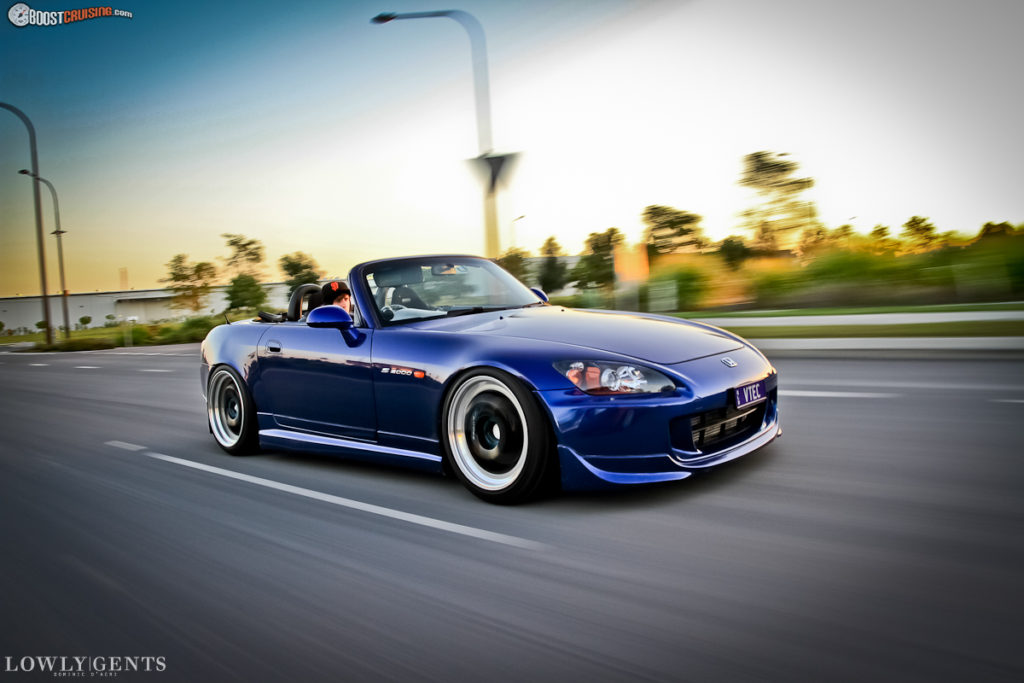 This awesome car is owned by "S2Crazie" who initially uploaded this car over here in our members rides section.